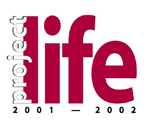 Community Blood Services Foundation proudly announces the launch of Project Life: 2001-2001.
This corporate outreach program as two dynamic goals:
To raise $1,000,000 to support this educational program and to increase the capacity of the Community Blood Services facility to collect, test, process and distribute life-giving blood and blood products to over thirty area hospitals.
For more information on Project Life: 2001-2001 please contact Stanley Siegel, Executive Director of the Foundation at 201-251-3714.