Academic Blood Challenge (ABC)
High School Program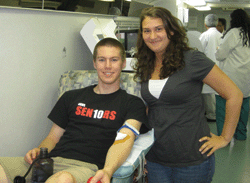 High school students, who can donate at age 16 or 17 with parental consent (see forms below), are a steady source of first-time blood donors. They play an essential role in ensuring an adequate blood supply now and in the future. In fact, blood donations from high school students account for nearly 10% of our regionís blood supply.
Hosting a high school blood drive offers students the opportunity to engage in community service and build class spirit, while providing education to students about the importance of donating blood and the impact students can have on saving lives in their community. Statistics clearly show that volunteer blood donors who begin donating in high school are more inclined to continue giving blood throughout their lifetimes. Community Blood Services is proud of the student donors who come forward each year, donating both at their high school, at blood drives in their communities and at our donor centers. Currently, more than 70 high schools in New Jersey and New York host blood drives with Community Blood Services. This lifelong commitment ensures our donor base is always sufficient to save the lives of patients in the hospitals and trauma centers we serve.
Community Blood Servicesí Academic Blood Challenge (ABC) scholarship program is one way to recognize our high school VIPs (Very Important Partners). Your high school must sponsor two blood drives each year. Scholarships amounts are based on the total number of units of blood collected annually and are awarded at the end of the academic year in June.
Organizing, planning and implementing a blood drive are exciting and challenging learning experiences for student leaders. Successful drives cover all areas: facility planning, promotion, building a leadership structure and motivating fellow students and faculty to donate.
Blood drives must be held between September and June each academic year in order to qualify for a scholarship. For more information on how to set up a blood drive at your school contact Rita Polchin at [email protected] or call 201-389-0350.
Click here for a brochure describing the ABC scholarship program.
Click here for a parental consent form in English.
Click here for a parental consent form in Spanish.