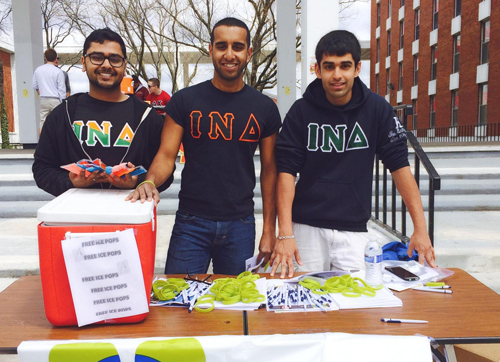 The brothers of Iota Nu Delta fraternity and the American Medical Students Association (AMSA) at Rutgers University hosted a series of bone marrow registration drives with The HLA Registry at Community Blood Services at three locations at Rutgers on Wednesday, April 23 and Thursday, April 24. Their record setting results are in, with 430 lifesaving registrations added to the national Be The Match bone marrow registry!
"The coordination of these drives took a special commitment and Iota Nu Delta fraternity's Tanzeeb Mehman and his team, as well as AMSA members, paid it forward with focus, enthusiasm and resolve," said Patrice Foresman, community & donor relations administrator at Community Blood Services. "The result is one of the most successful bone marrow drives that The HLA Registry has been fortunate to host and we here at Community Blood Services are grateful to all for a tremendous result."
Every day, thousands of adults and children are diagnosed with aplastic anemia, leukemia, lymphoma, sickle cell anemia and other serious diseases that require stem cell transplants as a cure, according to Foresman. An incredible 70 percent of those patients will not find matches within their own families and must turn to the national registry to find a donor match.
Registration is painless and easy. For anyone age 18-44 it will take about 10 minutes using a simple cheek swab and filling out a short health form to join the Be The Match registry and potentially help save a life. Donors with diverse or ethnic backgrounds are especially needed for the bone marrow registry, Foresman said, as patients in need of a transplants are most likely to match someone who shares their same race or ethnicity.
For thousands of patients with life-threatening diseases such as leukemia and lymphoma, a marrow transplant from an unrelated donor is their best or only hope for a cure. These patients depend on the Be The Match Registry to find a match – and a second chance at life. While many patients do find the lifesaving matches they need each year, more donors are needed to help increase the likelihood that all patients will find a match.
If you can't register but wish to help in another way, you can sponsor a marrow drive like Rutgers did with The HLA Registry to reach more potential donors and help build the registry by calling 201-274-5381 or emailing [email protected] .
You also can make a financial contribution to help defer the cost of adding new members to the registry. A check can be made out to the Be The Match registry to The HLA Registry, 102 Chestnut Ridge Road, Montvale, NJ 07645. Every $100 raised helps add a member to the registry.